Celebrity Gist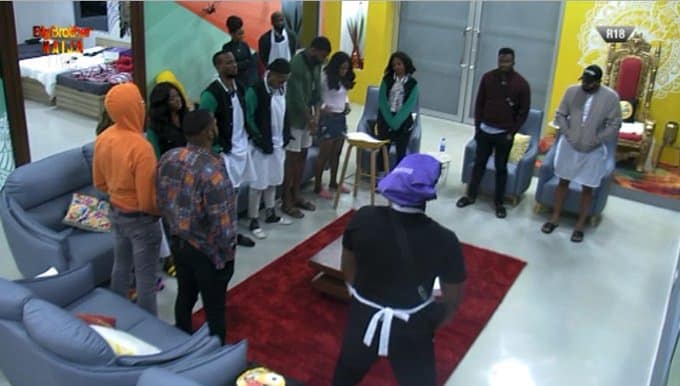 After Tuoyo left the Biggie House, all housemates have been put up for possible eviction this week. Asides putting up the whole housemates for possible eviction this week after reminding them of house rules they've broken, Khafi's veto power of saving and replacing was also canceled by Big Brother.
In Diary Room, housemates made their Nominations one after the other. Following the competitive spirit birthed from back-to-back Evictions in the House. the Pepper Dem gang laid down the names of two Housemates they wanted up for Eviction. Well, in Frodd's case he Nominated Nelson for personal reasons, perhaps?
We've had the case of the Housemates trying so hard not to offend their fellow Housemates' fans and in doing so, ended up Nominating the Veto Power Holder – just so the burden of Nomination is put on the Veto Power Holder during the 'Save and Replace' process.

Jeff Nominates Khafi and Ike.
Mike Nominates Khafi and Frodd.
Esther Nominates Jeff and Omashola.
Sir Dee Nominates Omashola and Thelma
Khafi Nominates Jeff and Thelma.
Nelson Nominates Jeff and Khafi.
Diane Nominates Mike and Jackye.
Omashola Nominates Thelma and Frodd.
Mercy Nominates Jackye and Jeff.
Frodd Nominates Jeff and Nelson.
Gedoni Nominates Thelma and Omashola.
Thelma Nominates Esther and Sir Dee.
Ike Nominates Jeff and Nelson.
Jackye Nominates Frodd and Thelma.
Oh the surprise that crept on their faces when Big Brother announced that their individual Nominations count for nothing this week. Khafi gets Nominated, Ike gets Nominated, Mike gets Nominated, everyone gets Nominated! What could Biggie be up to though?
A Reward for Disobedience
Biggie did not fail to show his sense of humour as he 'gifted' the Housemates by putting them all up for Nomination – for being naughty all through their stay in his House.
In essence, they were rewarded for all the times they failed to participate in the morning exercises, the times they talked in hush tones and of course, those annoying days they were being reminded to have their microphones on when talking at all times.
As a reward for constantly flouting Biggie's rules, the whole House is up for Nominations this week and at least one Housemate will be Evicted on Sunday during the Live Eviction show. The fake Evicted Housemates are not left out.
Don't forget to comment and share